Welcome to the Month of Glory 171
In this issue – click on title to read article:
Ridvan – The Greatest Baha'i Festival
Celebrating the 9th Day of Ridvan
Exile & Exuberance: The 12th Day of Ridvan
150 Years On — The Great Announcement
150th Anniversary of Baha'u'llah's Declaration
Bonus
1st Day of Ridván Holy Day Program 
9th Day of Ridván Holy Day Program
12th Day of Ridván Holy Day Program 
Ridván Holy Day Program Especially for Children
Story:
'Abdu'l-Bahá gets Angry!
On hearing him ['Abdu'l-Bahá], two things amazed us. First, he seemed to be wrought up to the highest pitch of anger and indignation. Never before had we heard him speak an angry word. We had known him sometimes impatient and peremptory, but never angry. And then, his great excitement had apparently given him command of the Turkish language, which no one had ever heard him speak before. He was, in Turkish, and in the most impassioned and vehement manner, protesting against, and denouncing, the treatment of the officers and demanding the presence of the Governor, who in the meantime had returned to the city. The officers seemed cowed by his vehemence, and the Governor was sent for. He came, and seeing the situation said, 'It is impossible, we cannot separate these people.' The Governor returned to his palace and telegraphed to Constantinople. The next day he received a reply granting permission to the followers of the Blessed Perfection to accompany him. We were told to prepare for immediate departure, but were not told to what place we were to be sent. When we set out there were seventy-seven in all in our band.  (Myron Henry Phelps and Bahiyyih Khanum, Life and Teachings of Abbas Effendi, p. 48-55)
Prayer:
Thou didst wish to celebrate the Day of Ridván with a feast, and to have those present on that day engage in reciting Tablets with delight and joy, and thou didst request me to send thee a letter to be read on that day. My letter is this:

O ye beloved, and ye handmaids of the Merciful! This is the day when the Day-Star of Truth rose over the horizon of life, and its glory spread, and its brightness shone out with such power that it clove the dense and high-piled clouds and mounted the skies of the world in all its splendour. Hence do ye witness a new stirring throughout all created things.

See how, in this day, the scope of sciences and arts hath widened out, and what wondrous technical advances have been made, and to what a high degree the mind's powers have increased, and what stupendous inventions have appeared.

This age is indeed as a hundred other ages: should ye gather the yield of a hundred ages, and set that against the accumulated product of our times, the yield of this one era will prove greater than that of a hundred gone before. Take ye, for an example, the sum total of all the books that were ever written in ages past, and compare that with the books and treatises that our era hath produced: these books, written in our day alone, far and away exceed the total number of volumes that have been written down the ages. See how powerful is the influence exerted by the Day-Star of the world upon the inner essence of all created things!

But alas, a thousand times alas! The eyes see it not, the ears are deaf, and the hearts and minds are oblivious of this supreme bestowal. Strive ye then, with all your hearts and souls, to awaken those who slumber, to cause the blind to see, and the dead to rise. (Abdu'l-Baha, Selections from the Writings of Abdu'l-Baha, p. 111-112)
Featured Video:
MJ Cyr
MJ Cyr, was too shy to even speak at age 5, but found a love for dance by age 10, and began singing in her teens.
Eventually, she made her way to musical theatre school in Toronto – finding joy in playful collaboration.  Showtunes soon led to singing originals, then accompanying herself on guitar or keys while experiencing the thrill of writing her own material.  Her downtown apartment became an impromptu jam space; a welcome place for fellow musicians to create, and play together.  In this environment, MJ quickly found her unique voice among the array of instruments, pedals, and recording equipment.  Indeed, Toronto has been fertile ground for MJ, having completed two EPs ('The Bottom Line'  & 'Ladders' ), A full Length record ('Canopy') , music videos, and more than a few live shows  around the City.
MJ has toured extensively in support of 'Canopy", across Canada, The United States, and the UK.  Its messages, and themes proved universal, and captured the attention of college radio; and it wasn't long before MJ quickly gained a new audience through word of mouth on her stirring live shows.
Most of her material was written immediately before, and after shows, or while traveling to new places to perform, something less intentional than it was a sign of where she had found new inspiration.
This month we're proud to introduce you to a song from her album, called Fortress
The words are from the following prayer by 'Abdu'l-Baha:
O compassionate God! Thanks be to Thee for Thou hast awakened and made me conscious. Thou hast given me a seeing eye and favored me with a hearing ear, hast led me to Thy kingdom and guided me to Thy path. Thou hast shown me the right way and caused me to enter the ark of deliverance. O God! Keep me steadfast and make me firm and staunch. Protect me from violent tests, and preserve and shelter me in the strongly fortified fortress of Thy Covenant and Testament. Thou art the Powerful. Thou art the Seeing. Thou art the Hearing.  O Thou the Compassionate God. Bestow upon me a heart which, like unto glass, may be illumined with the light of Thy love, and confer upon me thoughts which may change this world into a rose garden through the outpourings of heavenly grace.  Thou art the Compassionate, the Merciful. Thou art the Great Beneficent God.
View more videos of MJ and subscribe to her YouTube channel
Featured Book:

Negotiating Shadows is a personal account dealing with alcohol and drug addiction and the redemptive power of the Bahá'í Writings. This biography traces the life of Grace Growing Medicine from her birth into poverty and an abusive childhood into her womanhood as an addict. We accompany her on her dark journey as she negotiates the conflicts of life, via Alcoholics Anonymous and the Bahá'í Faith, on her way to the Sun and her spiritual awakening.
For more books like this, click here
Featured Coach:

Grace E. Reed (whose book we featured above) is a certified mediator, with an M.A. in conflict resolution and a B.A. in drama therapy.  She is a skilled mediator and therapist who helps people work through issues of addiction, conflict, stress, confusion, and bad choices.
She is the author of several books, including Negotiating Shadows  and Needs, a book written after a two year exposure and research with addicted at-risk youth (aged 13 to 17) on the streets and in juvenile justice.
She is a passionate advocate for positive change in individuals, groups, and society, with a special emphasis on youth-at-risk. She has skills and experience in mediation, education, drama therapy, and counselling; and is available as a consultant, mediator, negotiator. She is also available for lectures, seminars and group counselling.
To read more about her involvement with Four Winds International Institute 
Featured Business: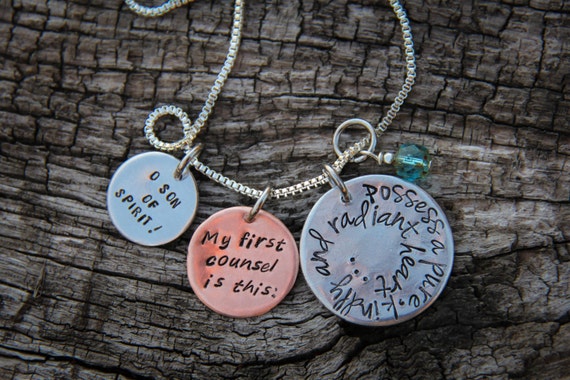 Amanda Snyder started creating jewellery with her friend, Rachael. Both are stay-at-home mothers and knew each other from play dates with their little ones. Together they started to create jewellery and keepsakes they hoped would inspire sentiment in the hearts of all. Crafting sometimes took place while the children played in the yard, or more often after bedtime rolled around… with late night sessions of friendship and inspiration.
Her hand-stamped pendants with quotes from the Hidden Words are made to order.  Customers have said things like:
Beautiful work
Fast turn-around
Sent quickly in lovely packaging
Amanda is by far the nicest person to do business with
Our Readers Write:
Many thanks for using your brilliant mind, spirit, heart to share this wondrous knowledge with all of us. You are a miracle. Wishing you radiant health, unbridled joy and success in all your endeavors in this new year and always.  (Pepii)
Hi Susan, Thank you for this beautiful edition. (Annie Banda)
Wish you  Happy Naw- Ruz and best wishes . May all your undertaking be blessed and confirmed by Him. I enjoy so much browsing through your site, It is a collection of gems.  Thanks for providing generously these beautiful collection to all to read, reflect , act and enjoy.  Loving greetings,  (Simin Sobhani)