Welcome to the Month of Perfection 171
The theme for this month is Dreams
In this issue
Featured Story:
Dreams for Good
We were sometimes led in America by dreams and visions," said Georgia Ralston, a member of the [Phoebe] Hearst circle. "We had to be. There were no books." Also, there were no local, national or international Bahá'í bodies then. The individual simply wrote to 'Abdu'l-Bahá, that he believed.  (Marzieh Gail, Arches of the Years, p. 51)
And Dreams For Bad
Ibrahim Khayru'llah brought the Baha'i Faith to the West, bringing thousands of people into the fold, including the first generation of the greatest American believers.  Perhaps because of this, he succumbed to the promptings of self and became a Covenant Breaker.  His fall was one of the greatest in religious history.  http://bahai-covenant.blogspot.ca/2009/04/ibrahim-khayrullah-and-american-bahais.html
What had happened in Chicago was this:
The Syrian, Khayru'llah, had been teaching the Cause, adding to the Faith many beliefs of his own, such as reincarnation, dream interpretation, occultism and the like. He had written a book incorporating these beliefs with the Teachings, and had gone to Akka and asked permission to publish it. The Master told him to abandon his superstitious beliefs, saying further that he would become a leading teacher if he would give them up and spread the Faith. But he returned to America and published his book. A rift resulted among the believers; Mirza Abu'l-Fadl and I [Marzieh Gail] were sent to heal the rift.
In Chicago we found Asadu'llah, who had come to America with the two devoted Bahá'í merchants of Egypt… although still a recognized teacher he was busily interpreting dreams for the believers and hemming them in with superstition.
After listening to Mirza [Abu'l-Fadl] for awhile, some of the believers said he was 'cold and intellectual'. They said Asadu'llah was 'spiritual', because he interpreted their dreams. They would walk down the hall, past Mirza's door, and go on to Asadu'llah. They would come and tell us that they were personally led by the spirit, or had had a vision warning them against a fellow-believer, and so forth.
(Mirza's name for them was jinn-gir—'spook chasers'.)
We saw that all this occult confusion would lead to divisions among the friends, especially as many of them were not yet well grounded in the Cause. We talked the matter over and decided on the following procedure: when anyone came to us, saying he was guided by the spirit to do thus and so, we would answer, 'The Universal Spirit is manifested today in Bahá'u'lláh. If you have visions or experiences urging you to some action, weigh this action with the revealed Teachings. If the act conforms with the Teachings, it is true guidance. If not, your experience has been only a dream.'  (Marzieh Gail, Dawn Over Mount Hira, pp. 107-108)
Featured Prayer:
For a Good Night's Sleep
O my God, my Master, the Goal of my desire! This, Thy servant, seeketh to sleep in the shelter of Thy mercy, and to repose beneath the canopy of Thy grace, imploring Thy care and Thy protection. I beg of Thee, O my Lord, by Thine eye that sleepeth not, to guard mine eyes from beholding aught beside Thee. Strengthen, then, their vision that they may discern Thy signs, and behold the Horizon of Thy Revelation. Thou art He before the revelations of Whose omnipotence the quintessence of power hath trembled. No God is there but Thee, the Almighty, the All-Subduing, the Unconditioned. (Bahá'u'lláh, Prayers and Meditations by Bahá'u'lláh, p. 262)
Featured Book:

Dreams For Peace: How the World of Dreams Can Lead Us to World Peace
This book, by Richard Hastings, shows us that all of our dreams are invitations to change; and move us towards peace.  He analyses dreams to help people understand the meaning and find a solution suggested by it.
Click here to read some sample chapters of the book
This book by Amir Badiei, catalogues over a hundred dreams that relate to the Bábí and Bahá'í Faiths, in a chronological order
Click here for more information
This book, by John Hatcher, is a coming-of-age story about what it means to grow up and find one's place within one's cultural heritage.  We follow the life of Ali, an eleven-year-old boy living in 'Akká in 1912.  Ali's life becomes a quest for the meaning of a mysterious dream, which leads him to carefully study his Bahá'í heritage, and sets him on a course to discover his own spiritual destiny. Author John S. Hatcher has woven together scenes and fascinating details of the history of the Bahá'í Faith – stories of heroism and heartrending drama – drawing from them universal truths about sacrifice, suffering, and the spiritual qualities required in growing up.
Click here for more information
Featured Video:
The only video I could find by a Bahá'í musician on the topic of dreams, was "One Planet One People – We're All Living In A Dream Of One World"; and although I searched the web high and low to find the name of the composer or even the group who was singing it, I was unable to find any attribution whatsoever!  If anyone knows, please let us know!
In the meantime, it's an oldie but goodie; that many of you might recognize and be able to sing along with!  Listen here!
Featured Coach:

Richard Hastings is a Canadian Bahá'í, pioneering in Malaysia, and an excellent dream researcher!  He believes that all of our dreams are moving us towards peace; and shows us how.  He has been doing dream work since 1989 and is the author of this month's featured book, Dreams for Peace.
Richard has traveled to the U.S., Canada, South America, and South East Asia doing dream meetings and personal change work.
His approach is solution oriented so that the participant is left not only with an analysis of the meaning of the dream, but also a solution. He has listened to several thousand dreams since he began.
Richard welcomes inquiries about dreams without charge by writing to him at richardchastings@gmail.com .  If you email him your dreams, he'll analyse them for free and send his analysis usually within 24 hours.  He's analysed over 80 of mine; and it's always helped me move forward through places I didn't know I was stuck!
To work with him over Skype, email him at dreamsforpeace@gmail.com  or richardchastings@gmail.com He charges $50.00 USD and payments are made through Paypal.
Featured Business:
SOOP – Something or Other Publishing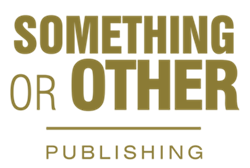 Something or Other Publishing is a new publisher with a unique twist!  100% owned by Bahá'ís, SOOP seeks to bridge the gap created between traditional publishing and self-publishing, in a process they call "author-driven book publishing".
Authors submit their book ideas and solicit feedback, while readers pledge support and vote for their favorites.
As authors achieve various voting milestones on the path toward 1,000 votes (and publishing contract eligibility), they receive guidance and benefits and complete related check-in activities.
SOOP's process focuses on educating and empowering authors to master the three P's: production, platform, and pitch, even before their books are finished. This approach helps SOOP to make the right investment choice with every author they publish.
In late 2013 and early 2014, SOOP held its I Heart SOOP Authors Contest, in which authors who submitted book ideas via the company's unique submission model had the opportunity to earn a publishing contract if they finished as one of the top-three vote-getters.
Although they are based in Madison, Wisconsin, they are quickly developing a distinctly international flavor, signing English-language authors from Serbia, Trinidad, and India – as well as American authors.
To visit their Homepage; vote for a book idea; or submit a book idea of your own